Q: What do I need to accurately measure and tile a space?
A:
– Measuring tape or laser measurer
– Notepad or iPad to take down your measurements
– A few minutes to make sure you have the proper measurements
– Overage! Always order a minimum of 20% more than what the project requires. The natural variation in materials may lead you to remove some pieces from the mix, and a percentage of the delivery should be expected to arrive damaged, and you will want to have some overage on-hand for post-installation issues that may require the replacement of some tiles.
NOTE: We recommend 30% overage for large scale porcelains (24 x 48 or greater). Large sizes are more prone to breakage in shipment and a percentage of breakage is to be expected. The cost of replacement for one or two tiles is much greater than the cost of adding the recommended overage to your initial delivery.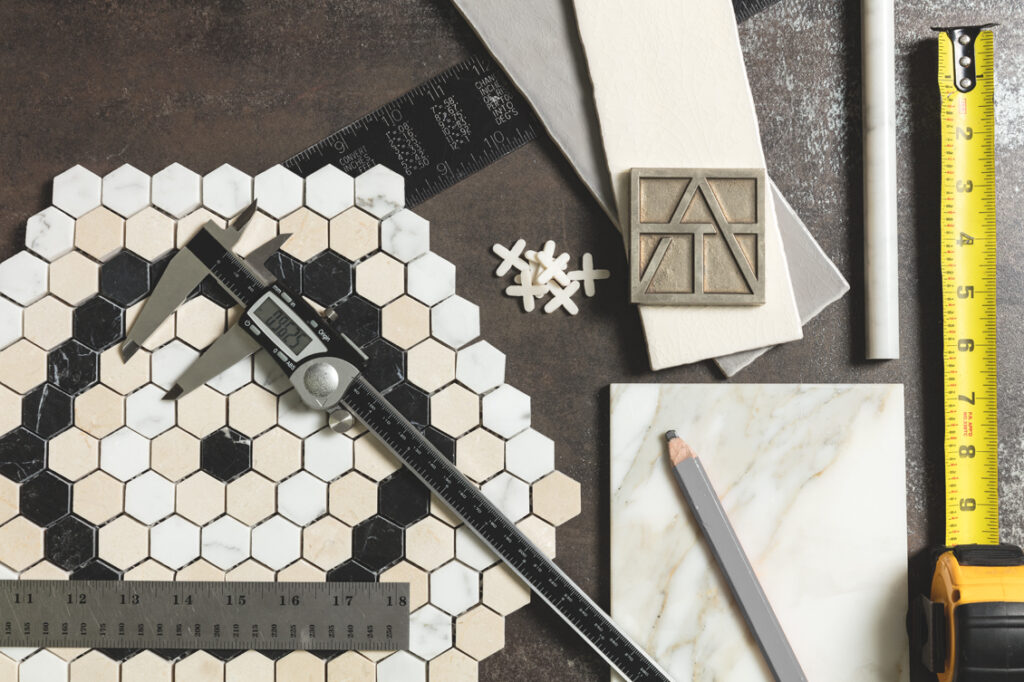 Q: I want to re-design my kitchen. Where should I start?
A: As the center of your home, your kitchen should be inviting, useful and pleasant for chefs and diners alike. Good kitchen design emphasizes elements that present themselves first as you enter the space. Usually, that means your cabinetry and backsplash, but may also include any other items on the vertical plane. Many prefer to select cabinetry as the first element in their kitchens, but if you're attracted to bold patterns or striking designs, it makes sense to select your tile first, then select coordinating cabinets to finish your space.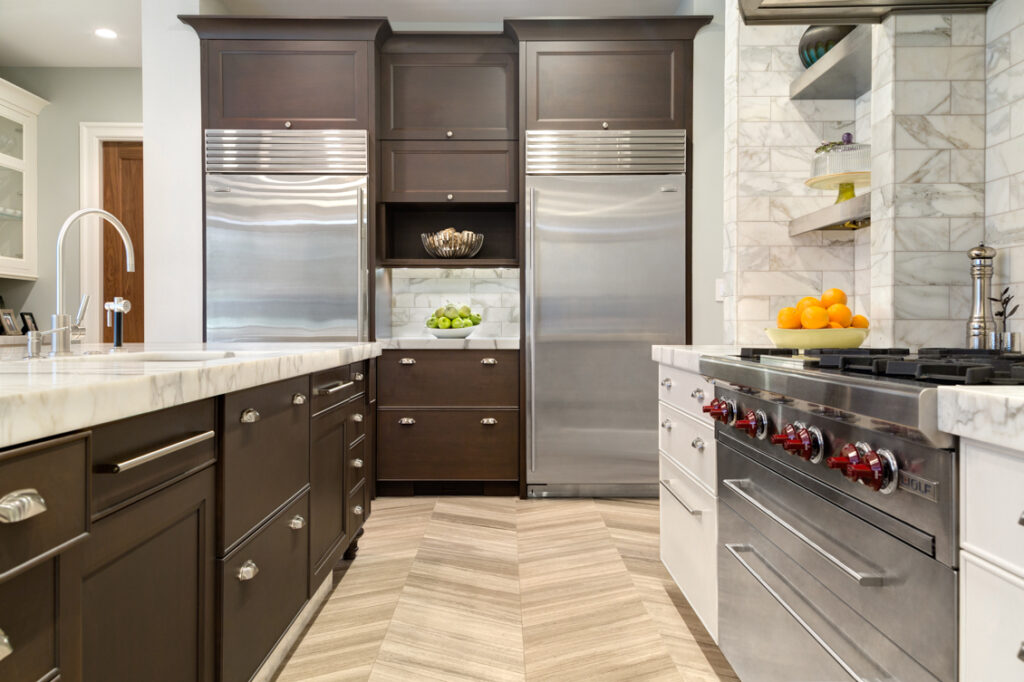 Q: How are most customers creating backsplashes?
A: More and more customers are tiling their backsplashes from their cabinets to the ceiling, behind stovetop hoods, giving their spaces a clean finish and a larger, more graceful sweep. We feel this method works well for most products and lends a modern, sleek feel. A more traditional look utilizes the area above the range as a framing feature, highlighting a decorative element that contrasts with a subtler field composing the rest of the backsplash.
Q: What material options are there for backsplashes?
A: Some of our clients prefer to use stone or porcelain slabs for a large, contiguous surface, often using the same material they've selected for their countertops. If using slabs, be sure that the slabs are large enough to continue veining from the countertops on to the backsplash, for a truly contiguous finish. Slab backsplashes, particularly of striking natural materials or their porcelain counterparts, impart a particularly modern, sleek appearance. You'll find lots of slabs on our website, but they're only sold offline, so please ask for help if you're interested in finding the perfect slab for your project.
Q: How do I measure a space for a backsplash?
A: Measure the full height of the area that you'd like to tile, from the countertop to the ceiling or the bottom of your cabinets, depending on your preference. Measure the length you'd like the backsplash to run. Multiply the number of inches and divide by 144 for the required square footage. Add 20% overage, or 30%, if you're setting your tiles on the diamond. If selecting a design with a panel over the range, make sure to measure for that detail separately than the surrounding field. Consider adding a finishing detail (such as a molding or border) to surround the panel. This will create a clean division between the panel design and the surrounding field.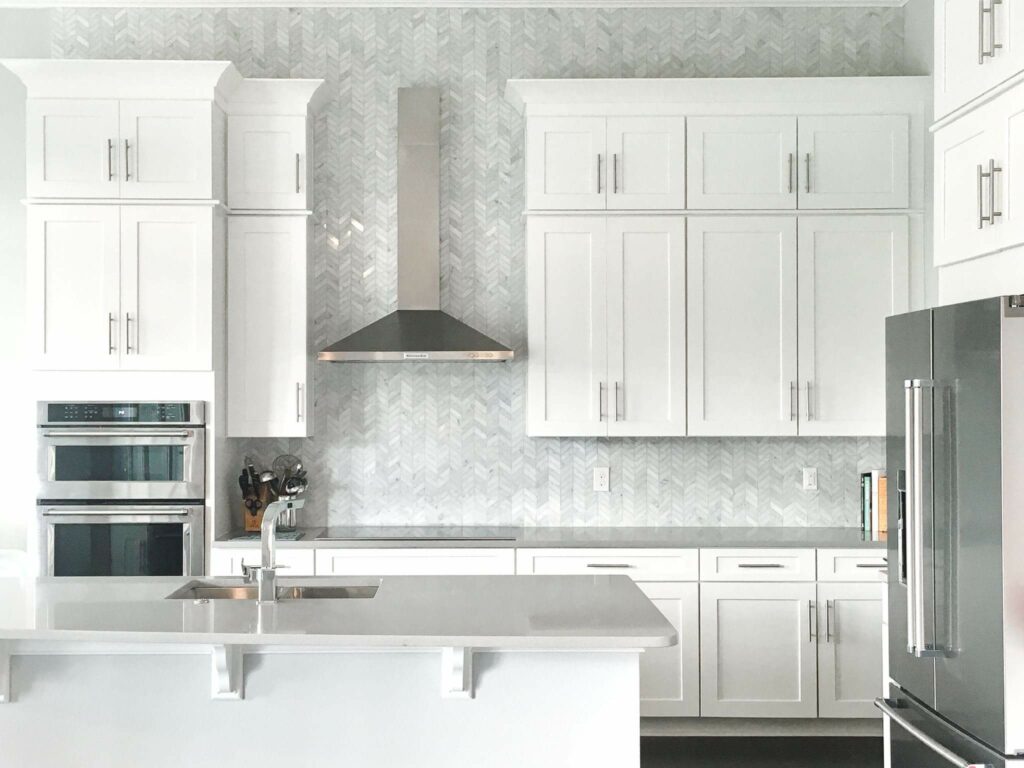 A: Make sure to measure the linear feet around the panel to determine the number of pieces needed for the finishing detail. Add one extra piece per corner. Please note that some tile installation scenarios involve the tile ending before the wall does – so that the tile adheres to painted or papered drywall. If that is the case in your plan, you will need a finishing piece to cleanly edge the splash. To determine the linear feet needed for the edge tile, measure from the countertop to the space where that finishing piece will end. Opus and Chelsea moldings, bullnose tile, Jazz Glass liners, and Charleston mirror liners are perfect options. If using a linear decorative element in a horizontal design, measure the length of the backsplash in inches and divide by 12 for linear foot count. Note that items used for linear decoration are not always 12″ long and care should be taken when ordering the proper quantity. Consult with your tile installer or contractor to confirm the quantity needed. If using a linear decorative element in a vertical design, measure the height of the backsplash in inches and multiply by the number of times you will repeat the vertical element.
Q: How do I calculate how many units I'll need for a mosaic backsplash?
A: Waterjet Mosaics ship as intricate interlocking patterns. Figuring out project quantities may be difficult. Please contact us with detailed measurements of the area to be covered for us to assist you with quantities.
Q: When using a slab for a countertop, will I need extra slab to finish the ends of the counter?
A: When designing your countertop, consider using slab in a waterfall installation, meaning that the slab serves as the countertop as well as a vertical wall leading down to the floor. This creates a clean and finished look. Measure slab areas and multiply length x width, making sure to consult with your fabricator to determine the overall slab sizes needed to complete your project. If using slab on your backsplash, be sure that the slab is large enough to continue veining from the countertops on to the backsplash, for a truly contiguous finish.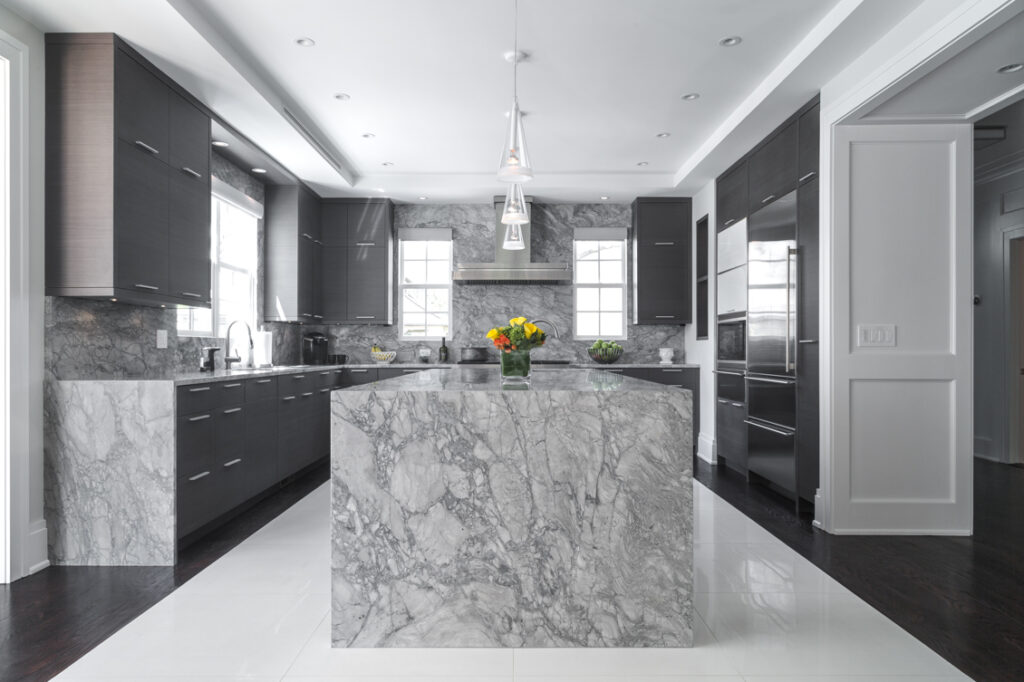 Q: What are the best tile material options for kitchen floors?
A: Your kitchen floor will see its share of foot traffic and no shortage of messes. Natural stone is the classic choice for kitchen floors, and it works perfectly in nearly any space. Natural stone can remain pristine with basic care, or you may allow it to gain a patina showing the unique imprint of your family's use through a lifetime of enjoyment. Porcelain tiles are also a suitable option for kitchen floors. We stock a variety of exciting formats and styles to satisfy all tastes.
When designing your floor, consider the style and color of the cabinetry and backsplash if these are already selected, as well as the color and finish of fixtures and fittings. Measure the length and width of the tiled space, but first, determine if your contractor will be tiling under the cabinetry.
Q: What other areas may need tile?
A: Whenever possible, take the opportunity to accentuate your space with tile on the ceiling. You can create a variety of looks from barnhouse to palatial, depending on your selection. Some of our favorite installations have tile ceilings, and we think it's an underutilized space that can make an important impact on the feel and appearance of your space. In antiquity, ceilings were the primary space of decoration.
Q: How should I decide on a decor style for my bathroom?
A: Your bathrooms are your most personal spaces at home, and the spaces you and your family are most definitely going to use. Your bath should reflect how you wish to feel in your most private of spaces. Close your eyes, what comes to mind you think of relaxing? Remember that visual when designing your space. It is personal, it is for you. Our products and a little imagination will help you create a space to relax and luxuriate in.
Q: What else should be considered in planning a bathroom space?
A: Function and convenience are extremely important in your bath. Where will you hang towels? Do you have a 3 way mirror for hair styling? A full length mirror? What about storage? Consider all of your grooming products, medicine, and so on, and where it makes the most sense to keep them. Outlet placement is key, and you'll need space for towel hooks and bars.
If you have the space, consider placing sinks opposite one another in your masterbath, and create a separate room for your toilet and bidet. If you choose an electronic toilet/bidet, consider that you'll need an outlet nearby!
Then get into the visuals. Your vanity wall is your primary accent wall, followed by tub wall or tub/shower wall. Many of our designers recommend covering the entire feature wall in decorative tiles for maximum impact. Some clients prefer to create a panel of decorative tile, inset into a subtler field. Regardless of your preference, measure the space by multiplying the length by the width. If creating a panel, be sure to select a piece of molding or liner to act as a finishing piece around the panel, allowing the panel to stand out as a framed work of art.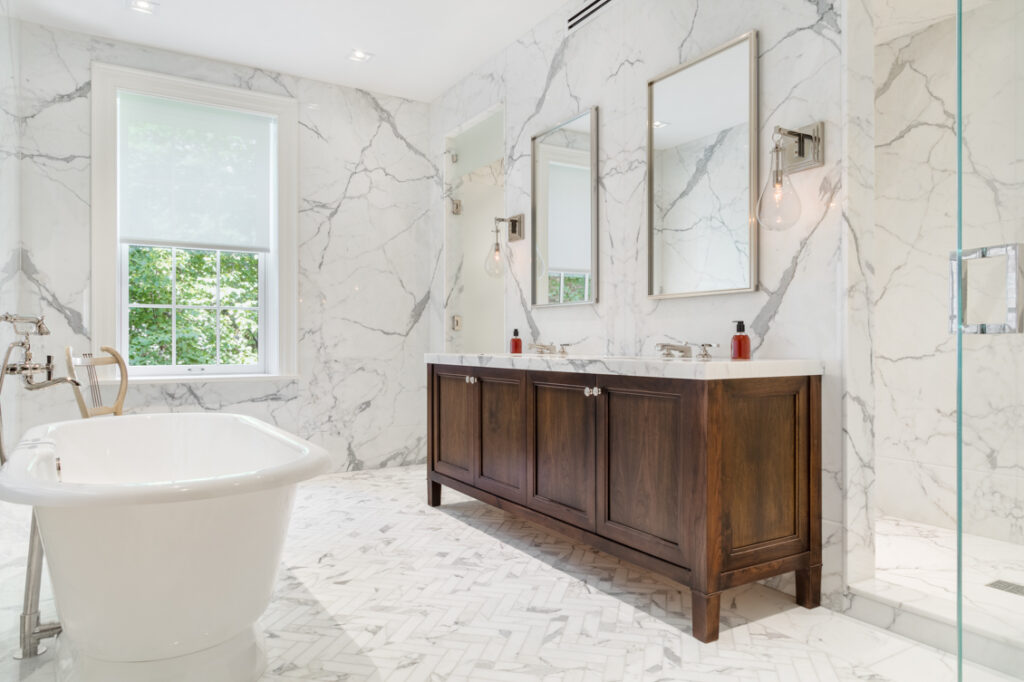 Q: What is the advantage of using tile on bathroom walls over paint or wallpaper?
A: Tiling all walls from floor to ceiling will make your space feel larger and more finished. If you are not tiling full walls, consider the wall finish you will use on the non-tiled spaces. Most non-tile finishes require regular maintenance and may be more susceptible to wear. The cost of hiring a different subcontractor to install that non-tile wall finish, combined with the cost and inconvenience of maintaining your untiled area are important considerations. We recommend simply tiling from floor to ceiling.
Q: How do I measure bathroom walls for tile?
A: Measure your walls by multiplying length by width. Account for any linear detail with linear footage needed. Add an extra liner piece for every corner it will encounter as it frames or edges your tiled area.
Q: How do I measure for a vanity top?
A: Measure slab areas and multiply length by width, making sure to consult with your fabricator to determine the overall slab sizes needed to complete your project.
Q: What areas of the shower do I need to tile?
A: Consider the area inside the shower, the shower floor, the walls, the ceiling, and any niches, benches or foot rests. All showers should have a seat when possible, and the cleanest way to create one is with the same material you've specified for the walls – or in a coordinating stone color slab. Niches have great utility and present a wonderful opportunity to bring in a stylish touch if used with a coordinating or contrasting pattern. Avoid installing niches on the focal wall; although they look pretty upon completion, once filled with plastic shampoo bottles, the attention will shift.
The top and sides of showers often need bullnose tile. We recommend using natural stone, which can be edge polished on site.
Shower floors must provide traction, so mosaics work particularly well here, especially as they allow traditionally "pitched" shower floors to direct all water toward a central drain – if water cannot get OUT, it will go UP, and may adversely affect your tile installation. A properly draining shower is critical!
Shower ceilings should not be overlooked for tile, as tile protects the ceiling from steam damage. Tiling the ceilings of showers and tubs is usually strongly suggested, and is required in steam showers. Tiling from floor to ceiling will make your bath appear more spacious, prevent peeling or bubbling, and will ultimately save you money. Consider carrying the ceiling tile throughout the bathroom for a commanding look.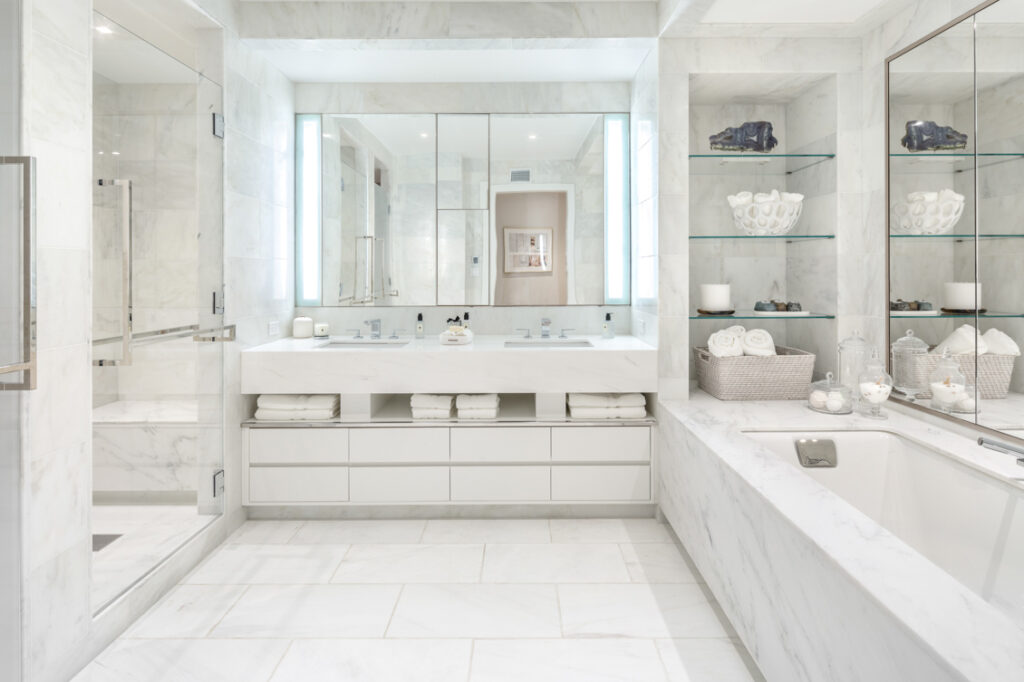 Q: How do I measure these areas for tile?
A: Measure the width and length of the floor, and be sure to consider overage, as with any tile measurement. A minimum 20% overage is suggested for bathrooms.
Q: What if I want to tile my tub as well?
A: Slabs are the best option for a tub surround, as they provide the most seamless look. You might consider using slab on the tub deck and a decorative element, such as a mosaic, on the surround face.
Q: What kinds of tile work best in a foyer?
A: Foyers offer a terrific opportunity to create the feel for your home. Let your foyer express who you are – your personal sense of style. Allow yourself to utilize the space artistically and make a statement – it's too often underutilized! One single material in a large scale might be the right choice on its own, or you might consider sprinkling some decorative pieces into the large field. You might also consider outfitting your foyer in a wall-to-wall waterjet pattern, or selecting a waterjet mosaic for a carpet design, surrounded by subtler field tile. Traditional mosaic patterns are also great options for foyers.Consider installing a book-matched slab to act as artwork on your foyer wall.
Q: How do I measure a foyer?
A: Measure for your foyer by multiplying the length by the width, but keep in mind any linear dimensions for borders.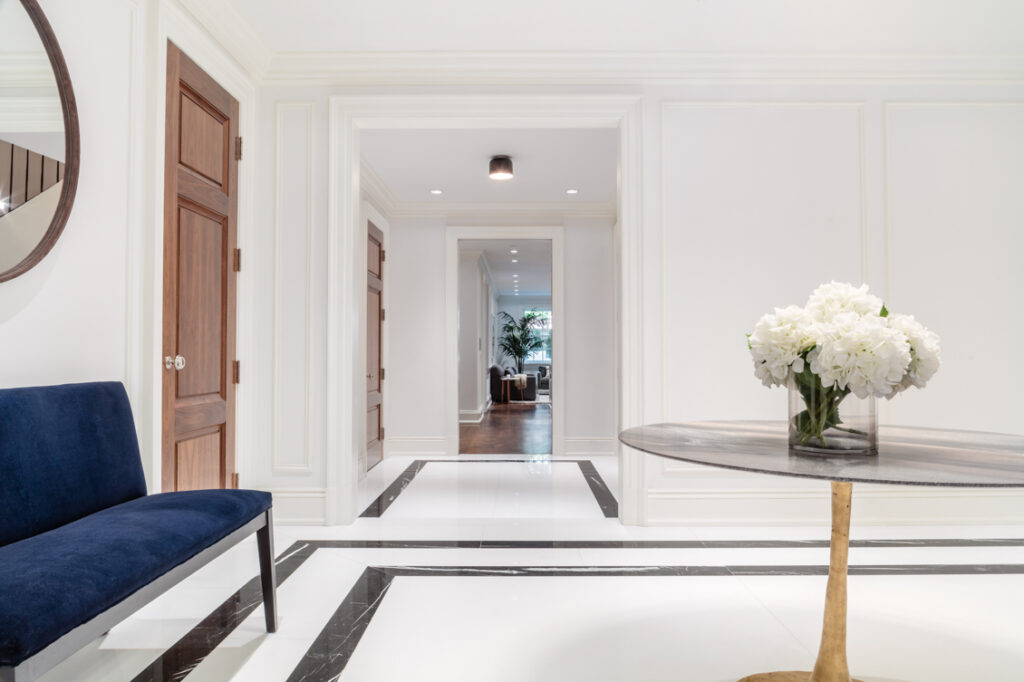 Q: How should I tile my fireplace?
A: Your fireplace surround is an important element to convey the feel for the overall space. Choose something big and bold for a look that commands attention, or a classic stone slab, field tile or mosaic for understated elegance.